Welcome to Non-credit ESL!
The Non-credit ESL program is designed to teach beginning and intermediate English skills (listening, speaking, reading, writing, and grammar) to non-native speakers. It prepares students for credit ESL classes at SRJC. The program offers morning, evening, and weekend classes online. It offers regular semester-length classes, short intensive classes, and ESL computer classes. 
For more information, please call or email 
* The ESL Department (707)527-4382, esl@santarosa.edu
* The Student Services Office at (707)527-4229, swc@santarosa.edu 
    Visit its web page at https://southwest.santarosa.edu
General information about non-credit ESL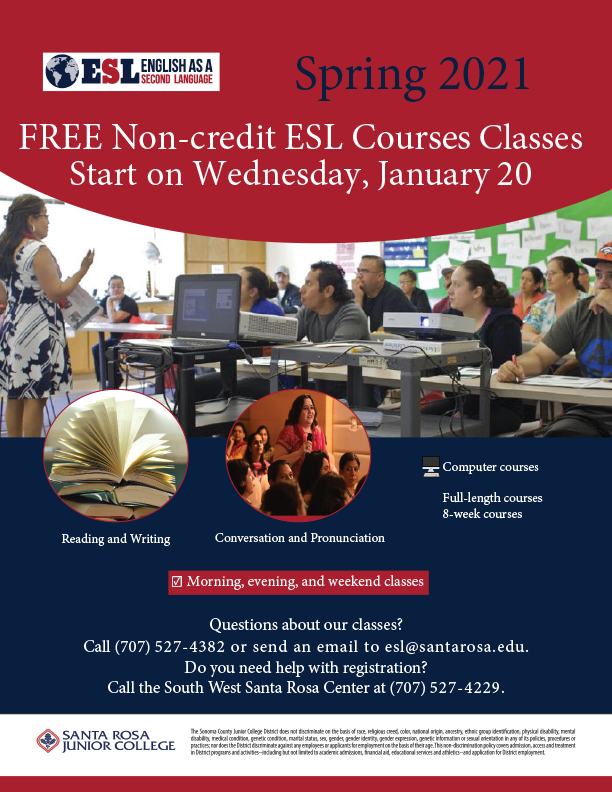 Don't be afraid to begin at a level that is a little difficult for you. You will learn English and attain your goals faster!  
 
Non-credit Tutor Lab and Conversation Club!
Zoom Link: https://santarosa-edu.zoom.us/j/6068493593

This is not an extra class; this is free EXTRA HELP (homework help or answers for your specific English questions). 
Drop-in ~ this means you don't have to start on time or stay the entire time. Tutors are happy to help you!
| | |
| --- | --- |
| Mondays  | 12:00-12:45pm |
| Tuesdays | 5:15-6:00pm |

ESL Conversation Club on Wednesdays and/or Thursdays
Please arrive on time and plan to stay for 45 minutes for Conversation Practice. 
| | |
| --- | --- |
| Wednesdays | 12:00-12:45pm |
| Thursdays | 5:15-6:00pm |
Zoom Link: https://santarosa-edu.zoom.us/j/6068493593
Before you attend, register for ESL 770, Section 5800. If you need help registering,
call the Southwest Center at 707-527-4229.